Latest Updates Featuring Chloe Foster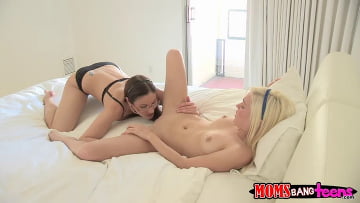 29th April
- Samantha was with her girl toy, Chloe. They were licking each others pussies and Samantha told Chloe that she had to go to work. Chloe told her that s
he was dating a guy that did not satisfy her. Samantha had an idea to invite Chloe to a fuck session she was having later with another guy, Michael. Later on, Samantha met up with Michael and she quickly began sucking his cock. She told him that she had a surprise for him and brought Chloe into the room. Chloe began sucking that dick and Samantha joined in. Chloe and Samantha took turns getting their pussies pounded. Chloe got man juice all over her pretty face.
...Read More
23rd February
- Chloe got scared from a noise outside she heard while she was doing some homework. She tried to call her parents but no one answered, so reached out t
o Jmac. He came over, but he didn't find or see anything suspicious. She asked him to hang out a little while longer because she was still shacking up. She then moved in on him, but he backed off. Chloe assured him she just turn eighteen a couple months ago and her parents would not be home until later that night. Once the age was understood they continued to make out, and then Jmac continued onto her grand pussy lips. She was revved up, so Jmac mac squeezed his meat bat in between her legs. She gasp in amazement as it slid in. Jmac pounded Chloe's tiny body. He put her into the pile driver position which made both of them explode.
...Read More