Latest Updates Featuring April Blue
17th January
- Some smoking hot girls join us this week for a bit of a work out. We start off with some simple stretches that really showed off these girls amazing c
urves. These hotties where fit, in shape, and ready for a good work out. It was not long before the boys had their hands all over the girls. We have something for everyone with a fine blonde and a gorgeous brunette that both know how to work out the cock. This is one for the books.
...Read More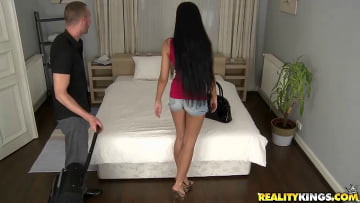 9th January
- April and her boyfriend desperately wanted to rent our apartment due to the proximity to the numerous tourist attractions. After giving them a tour of
the apartment, I informed them that for four days the rent would be 800 euros. They were disappointed and mentioned that unfortunately they could not afford such a high price. I immediately offered them the Mikey special and soon after mulling it over for a few minutes they agreed. I was able to capture on film every position that April got fuck in and also an extreme close-up of the unbelievable amount of jizz that was sprayed on her sexy lips and inside of her mouth.
...Read More
>> CLICK HERE TO DOWNLOAD <<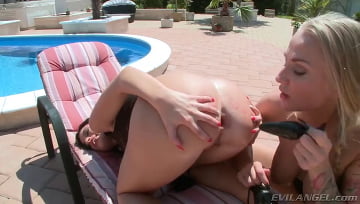 10th August
- Stacked, thick-lipped Euro brunette April Blue wears a lacy skirt and stilettoes; colorfully tattooed, big-titted blonde Kayla Green is stylish in rev
ealing lingerie. Under bright sunshine they exchange seduction across the patio, masturbating, fingering shaved cunts for each other. Planting a butt plug in her anus, Kayla's not subtle body language shouts, 'Come hither.' April takes the bait and plunges the plug in Kayla, whose bunghole gapes. April launches her rear for probing by Kayla's butt plug. After a big French kiss, April fucks Kayla's asshole with a vibrator, and the ladies conclude with more passionate Frenching.
...Read More
18th April
- Be careful to whom you introduce your fiancée: this seems to be the message of this new scene!
9th August
- The stunning blue-eyed Hungarian babe April Blue is excited to be in the bathroom with David Perry, because it's clear his free-swinging meat is ready
for some blowjob pleasure and she's going to be the one to deliver the royal rod treatment! She can't wait to take off her blue towel and get in the tub, rinsing Dave's big dick with the shower attachment and then kneeling down to start with the balls-licking and deepthroat action. April really gloms onto his hard shaft as she laps at the tip, kisses it in the middle, and then takes it far into her face. But these sexy blowjob pics don't stop there, as David sits on her face so she can lick his...
...Read More